For those of you who missed this last year, Gabino Iglesias had me show him my shelves. If you know what I mean. Check it out. There are pics of me mostly naked with pirate hats and shooting targets. And books. Lots of books.
Bizarro Central
Who are you and what role do books play in your life?
I am Michael Allen Rose, author, musician and performance artist. I also make a mean baked Mac N' Cheese. Books have been some of my best friends and means of seeing new worlds and perspectives since I was a kid. I was one of those weird kids who was just as happy sitting in my room reading as I was out playing with the neighborhood kids, if not happier.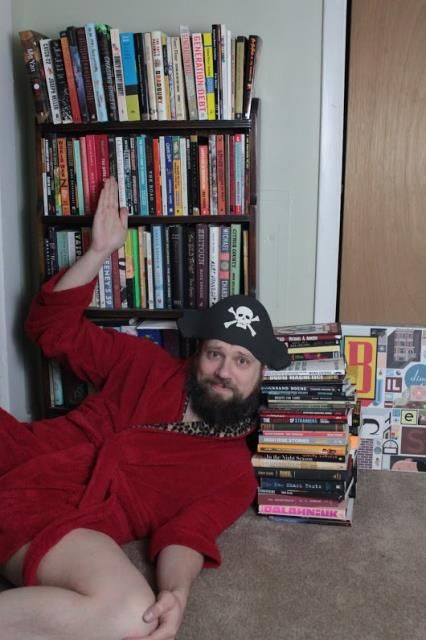 You read bizarro as well as everything else out there: what are some of your favorite non-bizarro reads?
Around the end of my undergrad college years, I got really heavily into the existentialists and absurdists: Camus, Sartre, Beckett, Kafka, Ionesco and the like. I remain a huge fan of that philosophy and literary style, but I'm also a huge fan of humor writing and pop-culture studies. Dark comedy is…
View original post 502 more words
This book is so much more than a boxing novel. In some ways, it's more than a "novel" regardless of genre. While the narrative our hapless protagonist "Sugar" Willem Floures spins does indeed involve his boxing career, it's the methodology of the telling that truly makes The Laughter of Strangers glow with a unique and unsettling light.
The first half of the book is fairly straightforward, as we enter Sugar's mind as he prepares for a major title fight. Author Michael Seidlinger brilliantly cracks the walls of his protagonist's mind and allows us to see things from the inside. It's a first person telling, but disjointed, fragmented; a novel written the way people think more than the way they talk. In this way, the prose itself reads like poetry, and is an absolute delight. The chapters in which fights occur are particularly well stylized, as bits of text stand out from the rest like individual jabs, hooks and uppercuts.
Halfway through the book however, there is an abrupt shift after a major event occurs in the life of Willem Floures. Most of the time, when a reader encounters an unreliable narrator, it's due to some combination of tall-tale syndrome, guilt in the telling or nefarious plans, however in this case, it's a painful symptom of a lifetime of being literally beaten to death. Is this what brain damage reads like? What's real, what's hallucination, what's past, what's future; there's nothing clear from here on out, and we're forced to confront a strange and beautiful mind that is fraying as we read. An absolutely fascinating and heartbreaking book. Seidlinger has somehow pulled off a novel that reads like a well-executed fight, with bobs and weaves followed by powerful, masterful blows.